A Bachelor's in Social Work (BSW) Degree | Your Entry into the Social Work Profession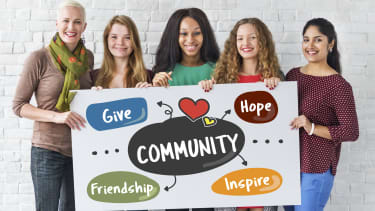 The social work profession, unlike some other mental health fields, has a career ladder beginning at the baccalaureate level. If you are interested in helping others and the social work profession calls to you, why wait? There are two main reasons to pursue a social work degree at the bachelor's, or BSW, level. The first is that there is likely to be a job waiting for you at graduation. The second is that if you do decide to continue your social work education at the graduate level, your BSW may put you at a significant advantage.
Covered in this Article:
What Can you Do with A Bachelor's in Social Work?
Each state board of social work has the responsibility of setting the scope of practice for social workers at different steps on the career ladder. Baccalaureate social workers often work in case management roles and connect individuals with resources in their community. They can also serve in macro roles like community organization or volunteer or program management.
BSW graduates are not trained nor allowed to do psychotherapy. States tend to limit clinical social work to master's trained individuals, even when working under supervision. There is often a ban on private practice as well. However, some states do allow private practice for baccalaureate social workers who are working within their acceptable scope of practice. This may be tied to a supervised practice requirement.
Not all states license baccalaureate social workers. This doesn't necessarily mean practice is prohibited. Some jurisdictions only have mandatory licensing for the highest level(s) of practice. Many jobs may require licensure for bachelor level social workers which requires graduation from a CSWE accredited program and passing the ASWB bachelor level exam. Before beginning a social work program, you should become familiar with your state board and your jurisdiction's practice act. Your state chapter of the National Association of Social Workers (NASW) may be another resource.
Baccalaureate social workers do sometimes develop expertise in specialty areas. NASW offers five specialty certifications for bachelor level social workers. BSW certifications are available in child, youth and family social work, gerontology, casework, military social work and hospice and palliative. These cerfitications generally require at least three years of work experience post-BSW degree completion in the certification area, state licensure, and documentation of continuing education hours in the specified field along with a completed application. Aside from deciding to pursue a MSW, specialized certifications can provide you with the extended education and skills need to set you apart in your chosen field.
What to Expect from a BSW Program
The Council on Social Work Education (CSWE), which accredits U.S. programs, notes that undergraduate programs offer preparation for the generalist social worker. One thing that all BSW students can expect is 400 hours of fieldwork. This is typically completed at a social service agency.
Typical coursework includes human behavior, social welfare policy, and treatment/ interventions that can be employed with different populations. Students can expect an introduction to social work research. There may be an opportunity to take seminars in areas of interest.
Program Admission
Admission to a social work professional program is typically a separate process from general university admission. Sometimes students do their general studies at one institution and enroll in social work degree completion programs.
How do you make yourself competitive for a Bachelor of Social Work program? There may be prerequisites. There will likely be a minimum GPA, though it may be modest -- 2.5 or even 2.0. Some program may even require work or volunteer experience in the human services field. Expect to write a professional statement and submit references.
Preparation for a Master's in Social Work
If you decide to pursue a master's degree in social work, your BSW may give you an advantage. MSW programs are typically 60 semester hours. However, there are a number of programs that offer advanced standing status to candidates with BSWs from accredited programs. This designation is tied with CSWE standards which state that MSW candidates not repeat material that they already acquired at the BSW level. Your state board may set requirements about courses that must be taken at the graduate level. However, an undergraduate social work degree can often reduce graduate requirement to one year (approximately 30 semester hours).
For more information visit: